FASTco Fire Fact Friday.  Cotton will catch fire if superglue is applied to it!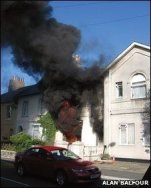 FASTco Fire Fact Friday.
Smoke is dark
Smoke generated by house fires is thick, dense and dark - making it difficult to find your way to safety.
You can't see your own hand at the end of your own arm during a fire!
Rubber, plastic, wood upholstery, foam-filling and fabric are the kinds of household materials that fuel house fires.
FASTco Fact Friday. Arson remains the largest single cause of fire in England and Wales and research has estimated that the overall annual cost of arson to the economy in this area is around £2.53 billion. The human cost has also been high. In the last decade there have been around 2.3 million deliberate fires resulting in over 25,000 injuries and over 900 deaths
/